You live in an age of miracles
You live in an age of miracles
April 29, 2014
Cannonization by Archbishop Aquilla
The Gospel for this past Sunday began,  "Jesus did many other signs in the presence of his disciples that are not written in this book." Miracles and signs have not ceased since the time of Christ, in fact, on April 27 the Church celebrated the canonization
of Saints John XXIII and John Paul II – two men who have profoundly changed the lives of many and changed the course of history.
My connection is with Pope John Paul II. I first had the chance to see him during a visit to Rome in 1983. Over the years, I was
blessed to be able to meet him several times, first as a priest and later as a bishop. The most memorable time was World Youth Day
in Denver when I assisted with three of the Masses he celebrated and the archdiocesan welcome ceremony.
When I arrived in Rome for the canonization, the air buzzed with the electricity of people from all over the world gathered for the
celebration. I met a pilgrim group from Bergamo, the home of St. John XXIII, and ran into many Polish pilgrims. On Friday, I was surprised to learn that I was going to be concelebrating the canonization Mass. It was truly a blessing, and I was ableto feel the closeness of Saint John Paul II as we celebrated the Eucharist.
For me, and for so many priests, sisters and laity,John Paul II was a spiritual father who drew me into the embrace of the Father, brought me closer to the Son and helped me know the love of the Holy Spirit. On the occasions when I was able to meet him, it was apparent that he was a true disciple of Jesus Christ, filled with Christ's love and compassion. And in his declining years, he taught the world how to approach illness and death as a Christian.
Sunday's first reading from the Acts of the Apostles echoed a theme of the Gospel reading, speaking about how "Awe cameupon everyone, and many wonders and signs were done through the apostles."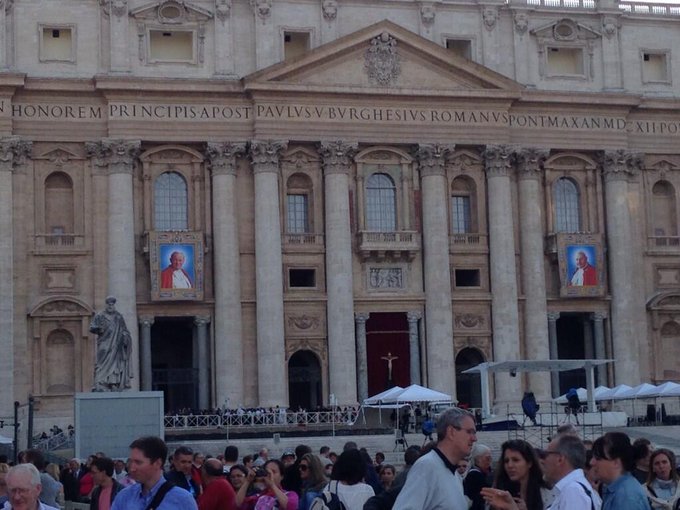 This experience of awe at the signs and wonders being done is something that is not a thing of the past. As I concelebrated at the
canonization Mass, I felt the presence of both of them and was aware of how true it is that we live in a time of signs and wonders.
We only need to open the eyes of our hearts and minds and put our faith in Jesus Christ and his Church.
May this Easter season be one in which you experience the resurrection of Jesus in a personal way, and may you become aware of
the signs he gives you and have faith in the Father's providential love for you. He desires to perform wonders in your life through his Son and the intercession of the saints.